SingleSample® VOC Removal Device Operation.
The technique used to fill a VOA vial is at least as important a source of variance in VOC analysis as is well purging protocol or sampler design. The more the sample stream is agitated or exposed to the air during the transfer of sample from the bailer to the vial, the lower the concentration detected in the vial will be.
The greatest loss of VOC's occurs when the sample is simply poured into the vial through the top of the bailer. Bottom emptying bailers with too rapid a flow also cause major losses. SingleSample® VOC Removal Devices afford a superior method for getting the sample out of the bailer and into the vial without the loss of VOC's.
The following technique gives reproducible and quantitative transfer of dissolved VOC's.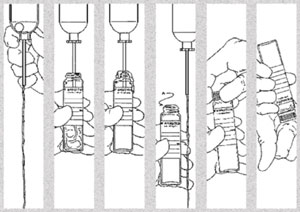 Hold or suspend the full bailer vertically and slowly insert the VOC Removal Device into the bottom valve until the sample begins to flow from the discharge tube;
Lift a clean VOA vial around the discharge tube;
Hold the vial in that position and count the seconds until it starts to overflow;
Continue to hold the vial in that position, with the sample overflowing, for an equal number of seconds to obtain one full, unagitated sample volume.1
Slowly withdraw the vial from around the discharge tube taking care to maintain the convex meniscus (A) on the sample in the vial;
Close the vial with the PTFE lined screw cap and screw the cap on tightly;
Invert the vial and rap it sharply several times against your knuckles to check for entrapped air. Reject any vials containing air bubbles; protect all vials containing sample from bright light; ice samples at once.
When using the ov​erflow method described in step 4 , confirm preservative effectiveness with the lab handling final analysis. The VOC removal device can also be used without the full displacement of sample described in step 4 to 1. maintain the effectiveness of the preservative.
---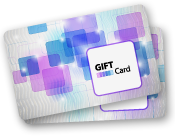 Bailer Rewards Program
Points you can redeem for gift cards to some of your favorite places.
Learn More

| Product Name | Product Code | Description | Units/Case |
| --- | --- | --- | --- |
| VOC Tips | 12451 | 1.5" POLY VOC TIPS | 24 |
| VOC Tips | PE75-VOC | 3/4" POLY VOC TIPS | 24 |
| VOC Tips | PE3-VOC | 3" POLY VOC TIPS | 9 |
| VOC Tips | RDT-031 | TEFON VOC TIPS | 12 |
| VOC Tips | PB-VOC | PRESSURE BAILER VOC TIPS | 12 |