Buying environmental sampling products can be very rewarding.
Each Box of Bailers you purchase contains points. Save these points and redeem them for gift cards to the following establishments
American Express, Applebee's Neighborhood Bar and Grill, Best Buy, Olive Garden, Red Lobster, Footlocker, Home Depot, Shell Gas Services, Starbucks, Subway, Target, Wal-Mart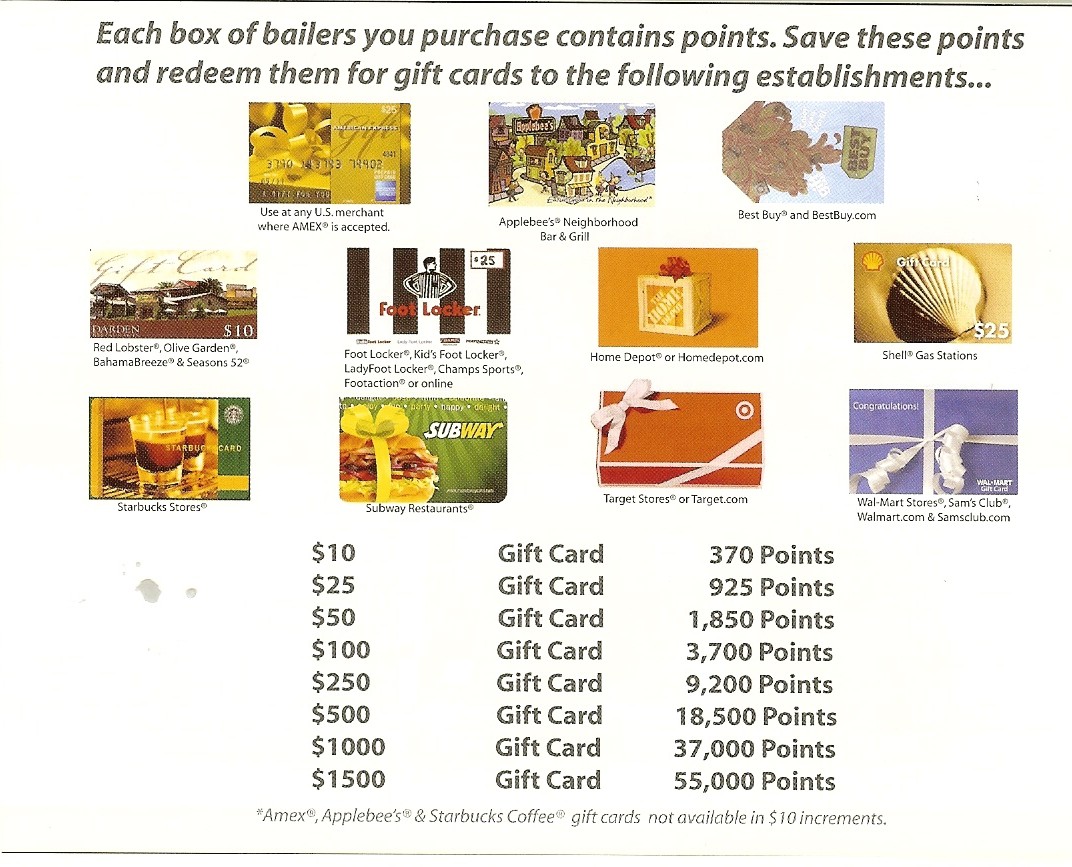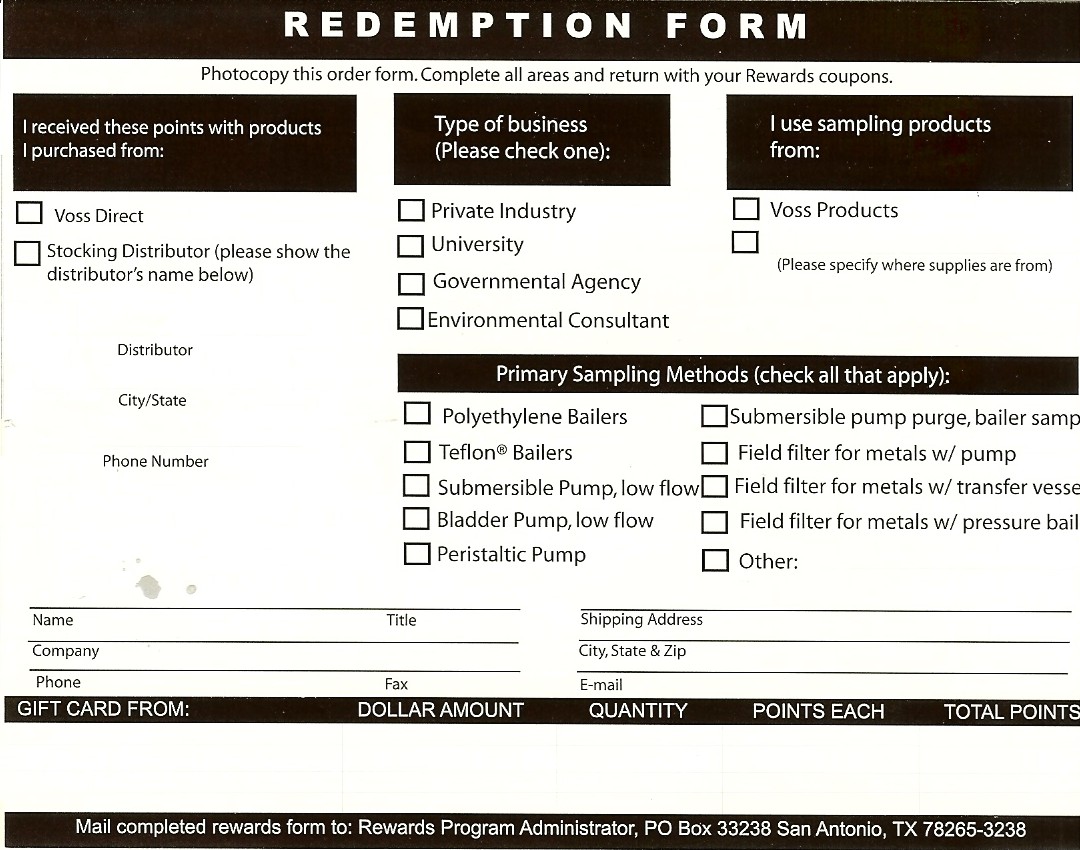 ---
To Download the complete Voss Rewards Program Brochure, please click here.
---
Send us your e-mail address and get FREE points.
Send us your e-mail address and we will send you 350 Free Bailer Points.
To send e-mail information, click here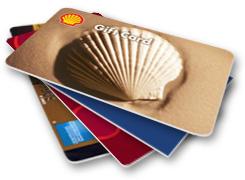 370 Points$10 Gift Card
925 Points$25 Gift Card
1,850 Points$50 Gift Card
3,700 Points$100 Gift Card
9,200 Points$250 Gift Card
18,500 Points$500 Gift Card
37,000 Points$1000 Gift Card
55,000 Points$1500 Gift Card
Amex, Applebee's & Starbucks Coffee gift cards not available in $10 increments
How would you like to earn dollars just by buying bailers? It's easy when you purchase from VOSS. The points per case breakdown is as follows.
You receive Voss Bailer Points™ with every sampling product you order from Voss Technologies. Points you can redeem for gift cards to some of your favorite places.
CLB1536NW
1.5"x36" clear non-weighted poly bailers - 35 points
CLB1536SW
1.5" x 36" clear weighted poly bailers - 50 points
91946-S
1.5" x 36" standard non-weighted poly bailers - 30 points
91946-SW
1.5" x 36" standard weighted poly bailers - 45 points
91946-12-S
1.5" x 12" non-weighted poly bailers - 25 points
91946-12-SW
1.5" x 12" weighted poly bailers - 40 points
91946-42-S
1.5" x 42" non-weighted poly bailers - 30 points
91946-42-SW
1.5" x 42" weighted poly bailers - 45 points
91946-48-S
1.5" x 48" non-weighted poly bailers - 30 points
91946-48-SW
1.5" x 48" weighted poly bailers - 45 points
PE3-S
3" x 36" non-weighted poly bailers - 25 points
PE3-SW
3" x 36" weighted poly bailers - 30 points
PE75-S
.75" x 36" non-weighted poly bailers - 30 points
PE75-SW
.75" x 36" weighted poly bailers - 45 points
SST-36-021
1.5" x 36" non-weighted PTFE bailers - 60 points
SST-36-021W
1.5" x 36" weighted PTFE bailers - 70 points
PB-010
1.5" x 36" Pressure Bailers - 35 points
GWC-45-EA
.45, 1.5, 10pm High Capacity Filters (50 pack) - 155 points
TWINE
100', 200', 300', 400'Twine Cases - 20 points
TW-WHB
Twine Well-Head Bracket - 30 points
TW-R
Twine Reel - 70 points
Gloves
Nitrile/Latex Lightly Powdered/Powder-Free Gloves - 20 points