All of Voss' HDPE bailers in all sizes are PFAS-free. Please click here for a certification letter.
Save time in the field and work smarter by using Single Sample® Disposable bailers.
SingleSample® disposable bailers eliminate field cleaning and cross contamination. Features include an improved top and stainless steel weight design so they fill and empty as fast or faster than any other bailer on the market plus our patented, Dome Design™ top and bottom to facilitate well entry and removal.
Ready to use. Non-reactive components. Individually sealed packaging. Approximately 1 liter capacity (1.5" model). Available in 0.5", 0.75", 1.5" & 3" I.D. models. Weighted and non weighted. Single and double check valve HDPE, PTFE®, Clear Poly and PVC
Voss Technologies now makes a FREE PRODUCT BAILER. The free product bailer comes in 1.5" x 36" non-weighted and weighted versions.
For instructions on how to use Voss Bailers click here or click here for our flyer.
---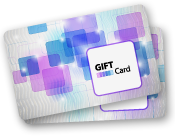 Bailer Rewards Program
Points you can redeem for gift cards to some of your favorite places.
Learn More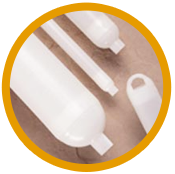 | Product Name | Product Code | Description | Units/Case |
| --- | --- | --- | --- |
| Bailers-HDPE | 91946-SW | 1.5" X 36" WEIGHTED POLY | 24 |
| Bailers-HDPE | 91946-S | 1.5" X 36" NON-WEIGHTED POLY | 24 |
| Bailers-HDPE | 91946-SW2 | 1.5" X 36" DOUBLE-WEIGHTED POLY | 24 |
| Bailers-HDPE | 91946-SW3 | 1.5" X 36" TRIPLE-WEIGHTED POLY | 24 |
| Bailers-HDPE | 91946-12-S-R | 1.5" X 12" NON-WEIGHTED POLY | 24 |
| Bailers-HDPE | 91946-12-SW-R | 1.5" X 12" WEIGHTED POLY | 24 |
| Bailers-HDPE | 91946-12-SW2 | 1.5" X 12" DOUBLE-WEIGHTED POLY | 24 |
| Bailers-HDPE | 91946-18-S | 1.5" X 18" NON-WEIGHTED POLY | 24 |
| Bailers-HDPE | 91946-18-SW | 1.5" X 18" WEIGHTED POLY | 24 |
| Bailers-HDPE | 91946-24-S | 1.5" X 24" NON-WEIGHTED POLY | 24 |
| Bailers-HDPE | 91946-24-SW | 1.5" X 24" WEIGHTED POLY | 24 |
| Bailers-HDPE | 91946-48-S | 1.5" X 48" NON-WEIGHTED POLY | 24 |
| Bailers-HDPE | 91946-48-SW | 1.5" X 48" WEIGHTED POLY | 24 |
| Bailers-HDPE | 91946-48-D-SW | 1.5" X 48" DOUBLE-CHECK VALVE POLY | 24 |
| Bailers-HDPE | 91946-60-S | 1.5" X 60" NON-WEIGHTED POLY | 24 |
| Bailers-HDPE | 91946-60-SW | 1.5" X 60" WEIGHTED POLY | 12 |
| Bailers-HDPE | 91946-72-S | 1.5" X 72" NON-WEIGHTED POLY | 12 |
| Bailers-HDPE | 91946-72-SW | 1.5" X 72" WEIGHTED POLY | 12 |
| Bailers-HDPE | 91946-L | 1.5" X 83" NON-WEIGHTED POLY | 12 |
| Bailers-HDPE | 91946-LW | 1.5" X 83" WEIGHTED POLY | 12 |
| Bailers-HDPE | 91946-D-R | 1.5" X 36" DOUBLE CHECK VALVE POLY | 24 |
| Bailers-HDPE | 91946-12-D | 1.5" X 12" DOUBLE-CHECK VALVE POLY | 24 |
| Bailers-HDPE | PE75-S | 3/4" X 36" NON-WEIGHTED POLY | 24 |
| Bailers-HDPE | PE75-SW | 3/4" X 36" WEIGHTED POLY | 24 |
| Bailers-HDPE | PE75-D | 3/4" X 36" DOUBLE-CHECK POLY | 24 |
| Bailers-HDPE | PE75-48-S | 3/4" X 48" NON-WEIGHTED POLY | 24 |
| Bailers-HDPE | PE75-48-SW | 3/4" X 48" WEIGHTED POLY | 24 |
| Bailers-HDPE | PE75-SW4 | 3/4" X 36" QUADRUPLE WEIGHTED POLY | 24 |
| Bailers-HDPE | PE75-83-S | 3/4" X 83" NON-WEIGHTED POLY | 24 |
| Bailers-HDPE | PE75-83-SW | 3/4" x 83" WEIGHTED POLY | 24 |
| Bailers-HDPE | PE3-S | 3" X 36" NON-WEIGHTED POLY | 9 |
| Bailers-HDPE | PE3-SW | 3" X 36" WEIGHTED POLY | 9 |
| Bailers-PVC | PVC-S-R | 1.5" x 36" NON-WEIGHTED PVC | 24 |
| Bailers-PVC | PVC-SW-R | 1.5" X 36" WEIGHTED PVC | 24 |
| Bailers-Clear Poly | CLB1512-S | 1.5" X 12" NON-WEIGHTED CLEAR POLY | 24 |
| Bailers-Clear Poly | CLB1518-S | 1.5" X 18" NON-WEIGHTED CLEAR POLY | 24 |
| Bailers-Clear Poly | CLB-1512-SW | 1.5" X 12" WEIGHTED CLEAR POLY | 24 |
| Bailers-Clear Poly | CLB1518-SW | 1.5" X 18" WEIGHTED CELAR POLY | 24 |
| Bailers-Clear Poly | CLB1536-S | 1.5" X 36" NON-WEIGHTED CLEAR POLY | 24 |
| Bailers-Clear Poly | CLB1536-SW | 1.5" X 36" WEIGHTED CLEAR POLY | 24 |
| Bailers-PTFE | SST-36-021 | 1.5" X 36" NON-WEIGHTED PTFE | 12 |
| Bailers-PTFE | SST-36-021-W | 1.5" X 36" WEIGHTED PTFE | 12 |
| Bailers-PTFE | SST-36-021-W SC | 1.5" X 36" WEIGHTED PTFE SPECIAL CLEAN | 12 |
| Bailers-PTFE | SST-36-D-R | 1.5" X 36" DOUBLE-CHECK PTFE | 12 |
| Bailers-PTFE | SST-12-011 | 1.5" X 12" NON-WEIGHTED PTFE | 12 |
| Bailers-PTFE | SST-12-011-W | 1.5" X 12" WEIGHTED PTFE | 12 |
| Bailers-PTFE | SST-12-011W SC | 1.5" X 12" WEIGHTED PTFE SPECIAL CLEAN | 12 |
| Bailers-HDPE | PE0536-S | 0.5" x 36" non-weighted poly bailers | 24 |
| Bailers-HDPE | PE0536-SW | 0.5" x 36" weighted poly bailers | 24 |
| Bailers-PVC | PVC-48-S | 1.5" x 48" NON-WEIGHTED PVC | 24 |
| Bailers-PVC | PVC-48-SW | 1.5" x 48" WEIGHTED PVC | 24 |
| Bailers-PVC | PVC-05-S | 0.5" x 36" NON-WEIGHTED PVC | 24 |
| Bailers-PVC | PVC-05-SW | 0.5" x 36" WEIGHTED PVC | 24 |
| Bailers-PVC | PVC-75-S | 0.75" x 36" NON-WEIGHTED PVC | 24 |
| Bailers-PVC | PVC-75-SW | 0.75" x 36" WEIGHTED PVC | 24 |